Quality Policy & Two-Year Warranty
We devote ourselves to integrate the high quality standard into all of our activities and offerings. Providing the quality products is the core to Transpak. We are committed to delivering consistent good quality to our customers.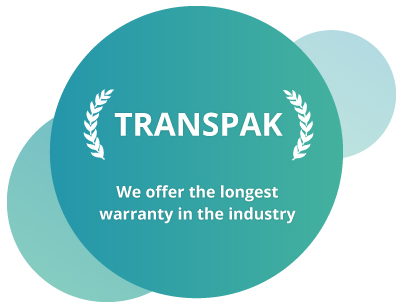 Two-Year Warranty
Aside from the strong confidence on the reliability and durability of Transpak products, we also offer a 2-year warranty for all our strapping machines and selected strapping tools.

Products with high quality minimize the downtime. In other words, it increases the productivity and saves the cost; it is our commitment to continuously bring values that exceed our customers' expectations.
Quality Leads to Excellence
Our factory production and management comply with strict ISO 9001 directives. However, our quality thinking goes one step further; aside from the ISO 9001, we are committed to our own strict quality standards to another level. All of our machines are well tested before the delivery. With Transpak, you can rest assured about the quality.

All Made in Taiwan with Pride
We export over 20,000 sets of strapping machines and 210,000 pieces strapping tools worldwide every year. All of our strapping machines and tools are manufactured in Taiwan under our strict quality standards.